Whether it's been 10 years or 100, every milestone should be celebrated. Depository anniversaries are the perfect time to highlight your library's Government documents collection, services, and resources and shine a spotlight on your library as a rich community resource.
Planning Your Celebration
Select Your Celebration Date
Plan your events when you know you can gather your maximum crowd. Try to avoid national holidays, major city or town events, and final exams or student breaks at academic institutions. Planning your celebration in conjunction with another special event at the library can help increase attendance. Many depository anniversaries are celebrated during National Library Week and on or around Constitution Day.
Plan & Assign
About a year in advance, clearly define objectives for your anniversary celebration. Draft an action plan, complete with a budget and timeline. Include responsibilities for each aspect of the anniversary celebration, such as guest speakers, media contacts, space selection, patron activities, giveaways, and snacks.
Reach Out
Ask colleagues in your region and the community as a whole how they celebrated their anniversaries. Ask your patrons for ideas and suggestions for celebrating.
Promote Your Event
Brand Your Materials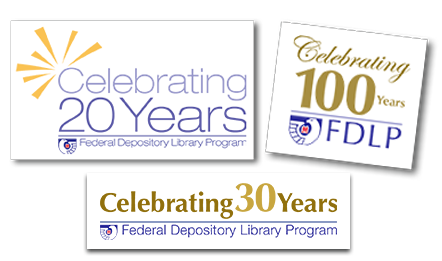 Use these anniversary logos in your event invitations, flyers, on your website, on social media, or anywhere you plan to promote your event. Download the logo applicable to your celebration year.
Three unique anniversary designs available for download.
Available in .png format.
Optimized for use in print or digital media.
Can be sized to any dimension.
Available in 15 different year options
Don't see what you are looking for? Contact GPO about getting these logos customized with your celebration year. Many depositories also create their own unique logos. Download images from GPO's FDLP Digital Marketing Toolkit to use in your designs.
Promote the Event
Use your library's social media accounts, web sites, public calendars, and resources of your library's parent institution to promote your event. Utilize the screen savers or LCD screens in the library to share information about events or fun facts about your depository.
Notify the Media
Plan your events with an eye to media coverage. Concentrate on local media outlets. Reach out to newspapers, local websites, newsletters, radio stations, community blogs/calendars, and television stations. Invite local media to cover the event. Download the press release template to announce your anniversary and related celebrations.
Utilize Your Network
Ask other local depositories, non-depository libraries, and educational and government institutions to help promote your event by either sharing your social media content, adding your event to their public calendar, or allowing for flyers to be placed in their buildings or at their events.
Events Ideas
Recruit guest speakers to present on the importance and value of Government documents. Examples include Senators and Representatives, community leaders, local educational leaders, and GPO staff. If you would like a representative from GPO to attend or share a congratulatory video, simply fill out our Request for GPO Participation form in advance. To access the form, you must first be logged in to askGPO. From the top menu, click More, and in the drop-down select, Training/Visits Request. Please complete that and click Submit.
Organize special guests and lecturers to speak on a variety of topics of particular interest to your local community. Ask the speakers to include information on how free access to Government documents impacts their topic.
Plan your events to include contests or games:

A contest for students/patrons to design an anniversary logo or poster.
A drawing that patrons can enter each time they visit the depository.
A scavenger hunt (Find a Government book or document about…).
A coloring contest or Ben's Guide printable activities for young patrons.
An essay contest about patrons' favorite Government document.
A contest to guess the number of Government documents in the library.

Offer and promote library tours. Focus the tour around your library's history and its anniversary. Involve other areas of the library outside of the depository.
Create unique and engaging displays in and around the library that feature Government documents resources. Reference how long your library has been serving its patrons and your library's upcoming anniversary. Link those references to the vast number of resources and services available to patrons. Feature your displays on the library's website and via social media.
Certificates & Plaques
Request certificates and plaques through askGPO. You must first be logged in to access the request form. From the top menu, click More, and in the drop-down select, Anniversary Award Request Form. Please complete that and click Submit.
Share Photos
Take photos before and during your event. Capture lots of action and candid shots. Share your photos with GPO, and your library could be featured via GPO social media, the FDLP Connection newsletter, or on FDLP.gov. Email us your photos and event descriptions. Don't forget to share all of your photos on your website and via social media.
Prepare for Your Next Event
Document everything – all plans, timelines, budget, etc. Include photos. Your future self or your successor will thank you!