National Collection Service Areas group Federal depository libraries into four regions as a means of ensuring geographically dispersed permanent public access to Federal Government information products, sharing resources among depository libraries, and receiving services from Library Services and Content Management (LSCM).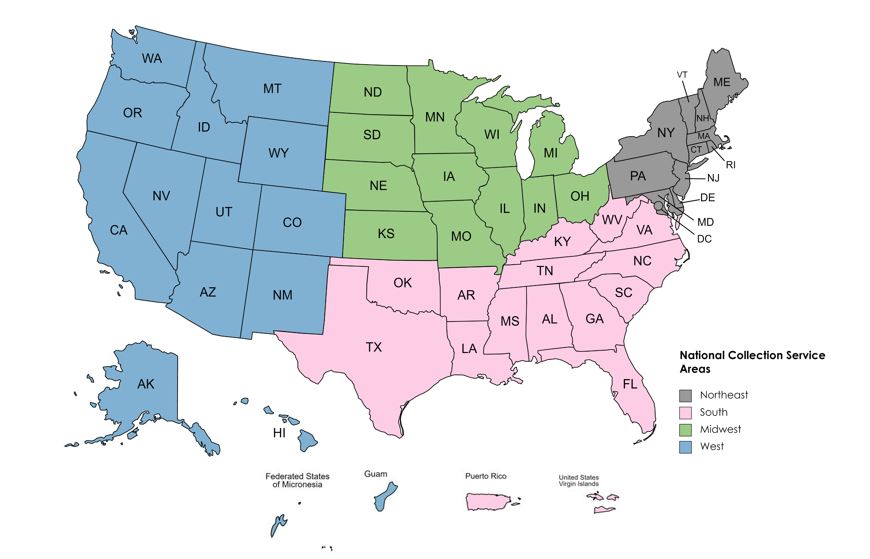 In 2015, Joint Committee on Printing (JCP) specified there be no fewer than four geographically dispersed tangible copies of a publication in the FDLP.
The Superintendent of Documents used a modified Census region map to create four National Collection Service Areas: Northeast, South, Midwest, and West.
Our goals:
Improve opportunities for regional collecting and weeding flexibilities
Ensure adequate tangible copies for access
Localized services to depository libraries and NCSAs
Foster collaboration among depository libraries in service areas
Overall Impacts of Implementing National Collection Service Areas
Federal Depository Libraries
Potential for more targeted collection of Federal information to meet local needs

Redefining "local" for Federal information collections

Strengthens the safety net for tangible materials, reducing the need for "just-in-case" collecting

Ability to right-size collection

Enables flexibilities for regionals to weed and deselect tangible formats of some titles
Library Services & Content Management
More responsibility for managing overall National Collection throughout the country
Addressing concerns of safety net (public access guarantee)
Localized service to NCSAs and depositories
Monitoring collection levels to ensure adequate copies
Immediate Impacts
Potential for resource sharing to ease the burden of space planning as microfiche is phased out

LSCM recruiting Preservation Stewards and Print Selectors to ensure permanent public access
Longer Term Impacts
LSCM recruiting Preservation Stewards and Print Selectors to ensure permanent public access

Shared reference / ILL to improve access

Preservation opportunities

Shared training opportunities
Related Resources
Webinar Recordings:
Handouts
Related web pages